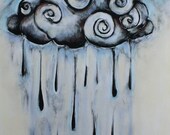 Original fine art monotype print with chalk pastel Raincloud
This monotype art print is about living on the west coast, where you're confronted by the rain often, so....rain, rain, here to stay, I think I'll see you another day...
This image is a one-of-a-kind hand pulled print onto archival Rives BFK paper. This is NOT a reproduction. This is considered a reductive monotype in ...
Click Here to Visit My Etsy Shop!